Those Mayans Were Wrong!
Well, it's midnight and no change. I guess I have to go back to work.
Ingress: Googles way to get us out and walking. Results from the last seven days are in and a slight improvement to the previous week. I don't have data from the first week since I had rebuilt my PC and didn't have the Fitbit software installed to collect the data.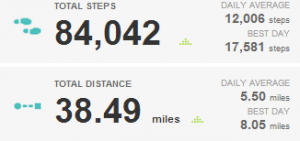 These additional steps are just from some additional walking to/from the train to work and the lunch hour. At least I know I'm meeting the 10,000 steps goal I originally set.